Expectations in the corporate world are changing and people expect to connect and communicate at work just as they are doing in their free time. A new mobile-first approach is needed for companies to meet the expectations of the workforce.
This is exactly why Workplace was launched in 2016 to give the world a place together. A tool that is built to enable companies to bring their employees closer together, make teamwork faster, and enhance the company culture.
This is why over 2m paid users in all industries over the world use Workplace to transform the way they work, collaborate, and communicate. Global companies like Starbucks, Walmart, Grab, and Nestlé. Thai companies like Central Group, Dhipaya insurance, Insee, and Agoda. Malaysian Companies like AirAsia, Hong Leong Bank, RHB, and Gamuda. They all have one thing in common; putting people at the heart of the organization to drive transformation.
In these 3 years, Workplace has grown to a full suite with over 100 new features to make work easier and faster, see the full list here.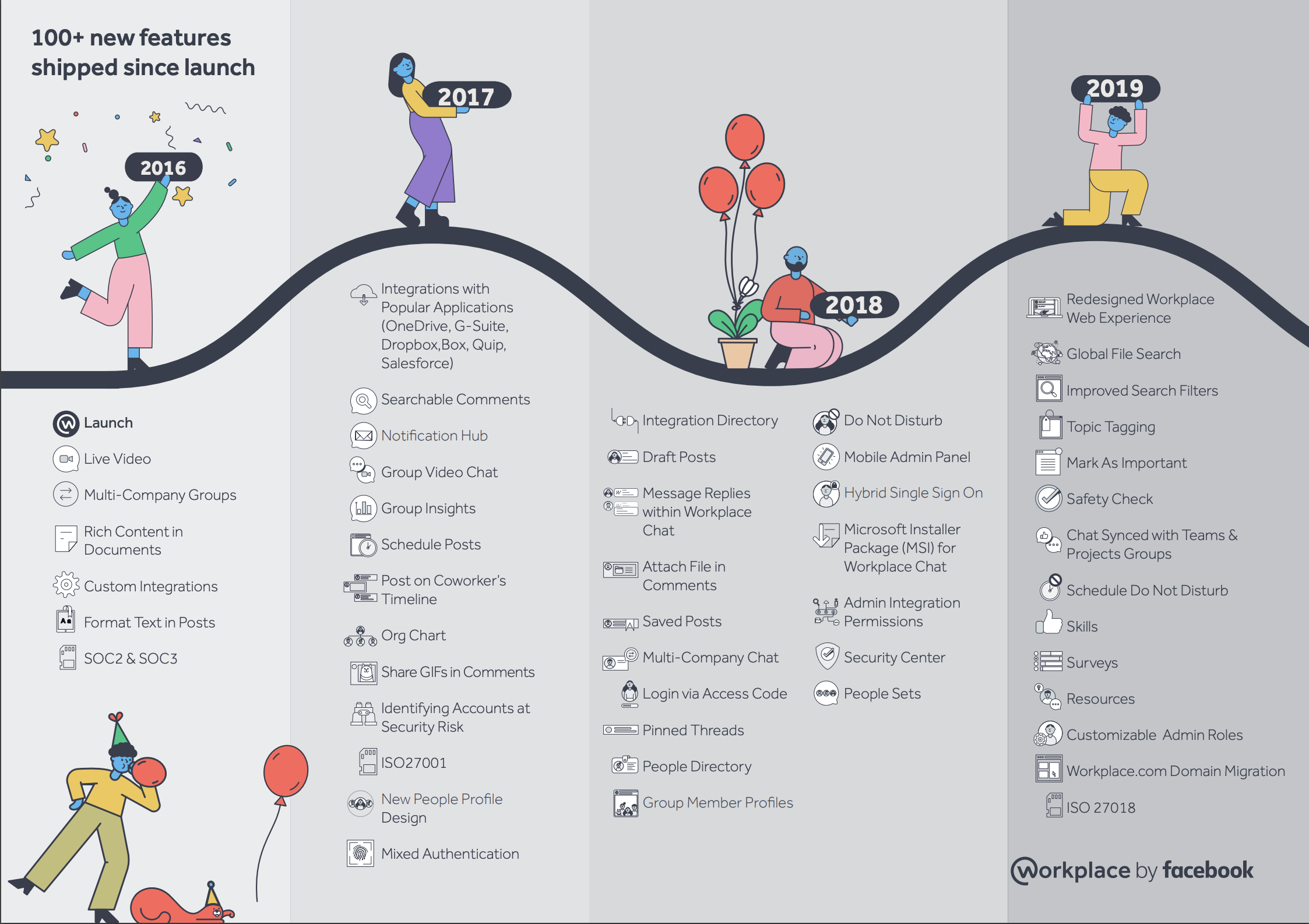 The New Workplace Plans and Pricing
Today Workplace is announcing 3 new plans to service the needs of the customers better, as well as adding a plan for the frontline workers. Choosing the right plan for the needs of the organization and its employees will become easier.
Workplace Essential - currently Workplace standard
Workplace Advanced - currently Workplace premium
Workplace Enterprise - new


1. Workplace Essential will be available in early 2020 and will contain all the communication and collaboration features a team needs. It will be free to use, giving everyone in the world the power to communicate.



2. Workplace Advanced will be available August 2nd and is designed to create a truly connected company, all features are included as well as advanced admin controls and the ability to add the frontline workers module. Workplace advanced will cost $4.00 per person, per month.

3. Workplace Enterprise is created and available August 2nd for more complex organizations due to their size or industry, and require a higher level of support. It includes all features of the advanced plan next to unlimited storage and in addition a 4-hour initial support response time SLA, priority support resolution and early access to new features. Workplace Enterprise will cost $8.00 per person, per month.

Add-on: Workplace Frontline
This add-on will be available only in Workplace Advanced and Enterprise to make it easier to connect frontline workers, a key part of the Workforce that often feels disconnected from the company. Admins have additional controls over this group to control access outside working hours. The Frontline add-on will cost $1.50 per person, per month.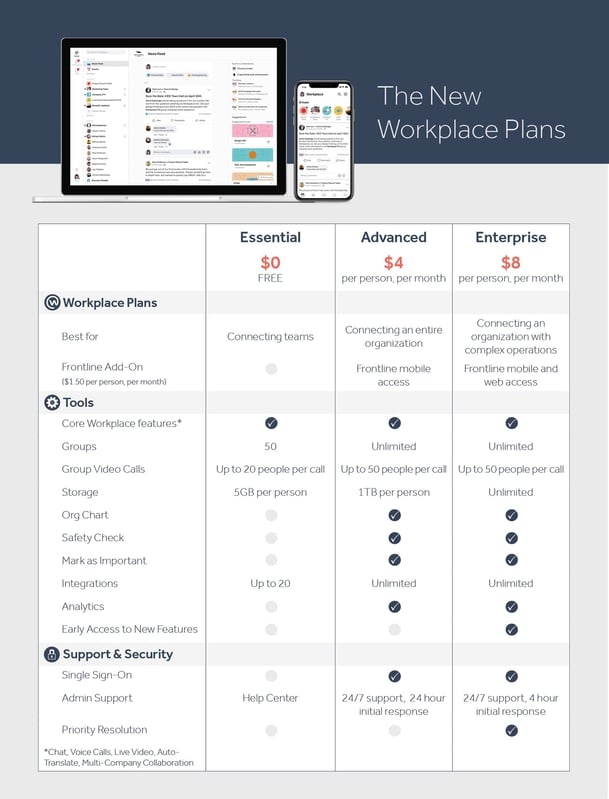 For more information, see the FAQs.
A key change is also that Workplace Advanced and Enterprise will be charged per person, per month, instead of per monthly active users. This is to allow organizations to better plan their budget and resources for Workplace.
Building the future of work together
Together we build a stronger connected community at your organization and this is a continuing journey. Workplace continues to innovate and build features that make work even faster, bring people even closer, and make company culture even stronger.
Interested always receiving the latest product updates? Subscribe to our blog or
contact us for a transformation session with our Growth team

.