Google Launches
Smart Canvas
for a Better Collaboration Experience!
During the Google I/O 2021 conference, Google introduced a new collaboration tool which delivers the new experience in Google Workspace to enable better collaboration for everyone, Smart Canvas.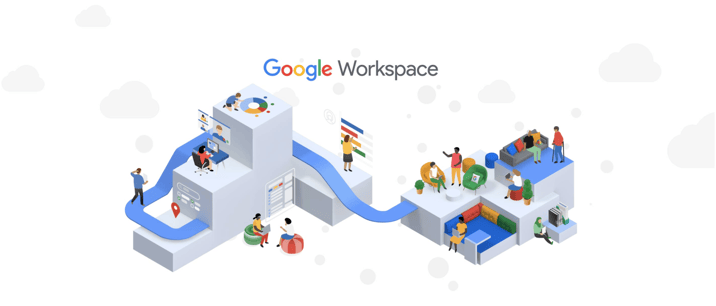 What is included in Smart Canvas?
Making collaboration more flexible and helpful
New smart chips in Docs for recommended files and meetings. (@-mention people, files, and meetings)

The lists of recommended people, files, and meetings will pop up once users type "@." This will also be rolled out to Sheet in the upcoming months.

Checklists in Docs

Users will be able to make the To-Do list or assign checklist items to co-workers and those items will appear in Google Tasks.

Table templates in Docs

The topic-voting table in Docs allows you to easily collect feedback from the team.
Project-tracker tables will also be included to help capture progress and statuses.
Document template for capturing meeting notes will automatically import relevant information from Calendar meeting invites.



Pageless Docs

Users will be able to remove the page boundaries to create a surface that expands to whatever devices or screen they're using.

Timeline view

New views in Sheets to better manage and interact with your data. Timeline view allows users to track the progress of the project easier and faster. Users can organize the data by owner, category, campaign, or whichever attribute fits best.
Fostering human connection—wherever people work
Bringing Meet directly to Docs, Sheets, and Slides

Users can now present their content to Google Meet directly from Docs, Sheets, and Slides.
Coming this year, users will be able to join meetings directly from Docs, Sheets, and Slides.

Live captions and translations in Google Meet

Google offers live captions in five languages and is still adding more. Later this year, live translation will be available starting from English-language live captions translated into Spanish, Portuguese, French, or German, with many more.

Creating and editing Sheets and Docs from Google Chat rooms

Users are able to create and edit Docs and Sheets directly from Google Chat rooms. This feature will be available in Slides in the upcoming weeks.


Emoji reactions in Docs

Emoji reactions will be available in Docs in the next few months for teams' reactions.😊
Working smarter and safer
Additional assisted writing features in Docs

Provide more inclusive language recommendations. This feature also includes warning about offensive words as well as other stylistic suggestions.
More assisted analysis functionality in Sheets

Adding more formula suggestions that will make it easier for everyone as well as the analysis functionalities to help users build and troubleshoot formulas, get better insight from data faster, and reduce errors.
As Smart Canvas brings the next level of collaboration to Google Workspace. Google promises to keep developing and providing flexible and helpful innovations for organizations in every industry as well as bringing digital transformation to every business across the globe.
---
Source: https://cloud.google.com/blog/products/workspace/next-evolution-of-collaboration-for-google-workspace