Google Cloud
Features Update Summary - October 2021
The summary of essential information about Google Cloud in October 2021.

Your guide to all things AI & ML at Google Cloud Next
We'll kick off each day with a live broadcast and keynote to showcase our latest launches and share how customers and partners are tackling today's greatest business challenges. You can also participate in online interactive experiences and attend on-demand sessions that align with your interests and schedule.
Oct 01 | Google Cloud: AI & Machine Learning
Plus, Google Cloud Next is free this year, so the experience is inclusive and accessible to everyone. Read More.
---

Google named a leader in the 2021 Gartner® Magic Quadrant® for Full Life Cycle API Management
We're excited to share that Gartner has recognized Google Cloud's Apigee as a Leader in the 2021 Magic Quadrant for Full Life Cycle API Management, marking the sixth time in a row we've earned this recognition. We believe this achievement is a testimony to Google Cloud's differentiated vision for API management and strong track record of delivering continuous product innovation.
Oct 01 | Google Cloud: Apigee
In this year's report, Apigee is placed highest among all the vendors for the ability to execute. We want to take this opportunity to thank our thriving community of customers, developers, and partners for voicing their opinion. Read More.
---


Find your GKE cost optimization opportunities right in the console
It doesn't matter whether you have one Google Kubernetes Engine (GKE) cluster or a thousand, whether they're all GKE standard clusters or autopilot, whether you're the only person working on infrastructure, or are part of a larger team—knowing how to optimize your clusters for high performance and low cost is the key to success on GKE.
Oct 04 | Google Cloud: Kubernetes
Today, we're introducing the preview of GKE cost optimization insights, which brings some of that wisdom directly into the GKE interface, helping you strike the right balance between cost and performance for your GKE clusters and workloads. Read More.
---

10 ways Google Cloud IaaS stands out
When you choose to run your business on Google Cloud you benefit from the same planet-scale infrastructure that powers Google's products such as Maps, YouTube, and Workspace.
Oct 05 | Google Cloud: Compute
We have picked 10 ways in which Google Cloud Infrastructure services outshine alternatives in the market in how they simplify your operations, save money, and secure your data. Read More.
---

Google Cloud joins forces with EDM Council to build a more secure and governed data cloud
Google Cloud joins the EDM Council to announce the release of the CDMC framework v1.1.1. This has been an industry-wide effort that started in the summer of 2020, where leading cloud providers, data governance vendors, and experts worked together to define the best practices for data management in the cloud
Oct 07 | Google Cloud: DATA Analytics
Google Cloud customers, who include financial services, regulated entities, and privacy-minded organizations continue to benefit from Google's competency in handling sensitive data. The CDMC framework ensures that Google's best practices are shared and augmented from feedback across the industry" Said Evren Eryurek, Google's Director of Product Management at Google Cloud, a Key leader for Big Data in Google Cloud. Read more.
---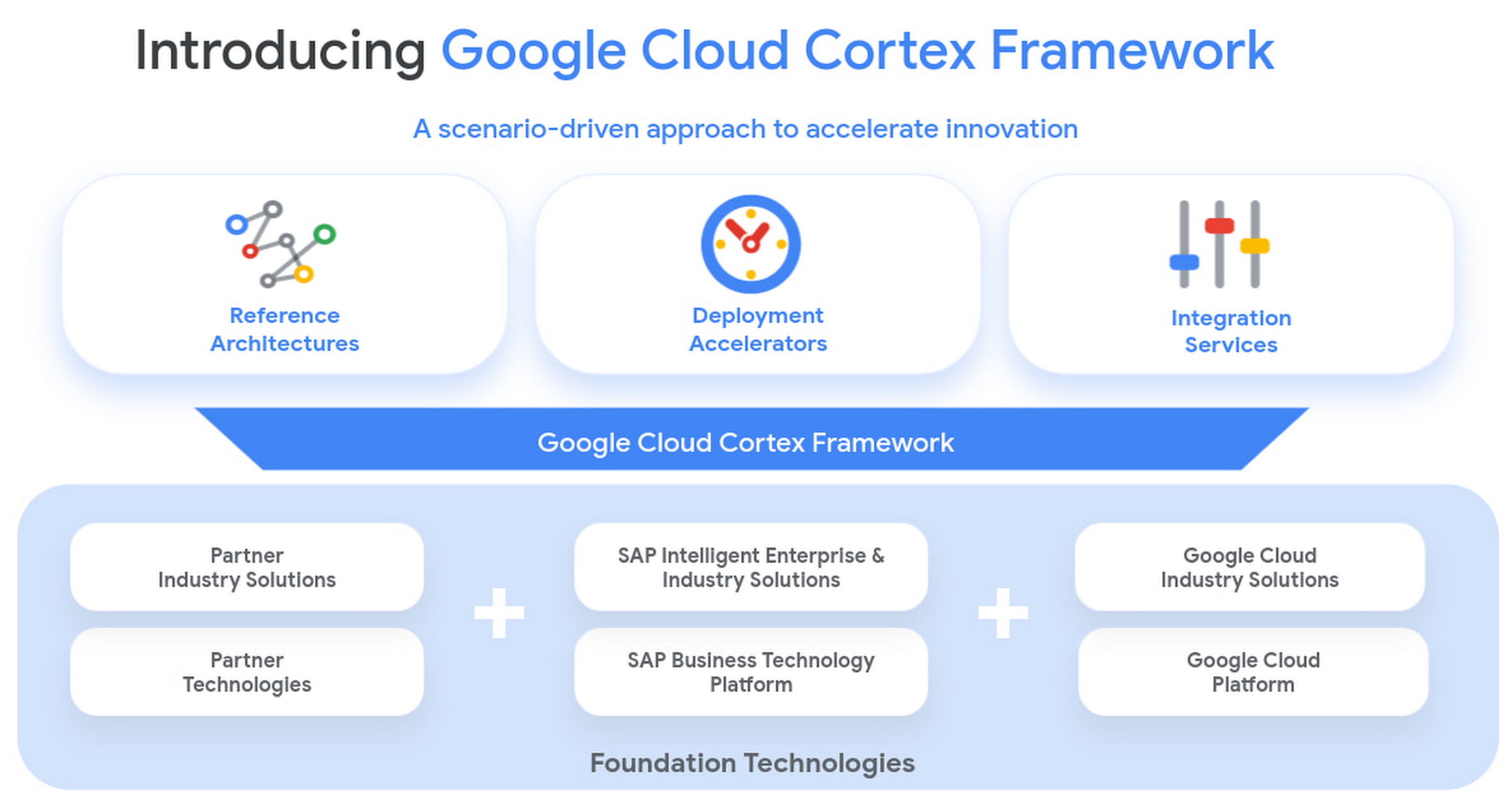 Accelerate SAP innovation with Google Cloud Cortex Framework
Digital transformation is about gaining speed, agility, and efficiency. The faster and more easily your organization operates on a modern cloud platform, the sooner it can experience the benefits.
Oct 12 | Google Cloud: SAP on Google Cloud
Today, we are excited to introduce Google Cloud Cortex Framework, a foundation of endorsed solution reference templates and content for customers to accelerate business outcomes with less risk, complexity, and cost. Read More.
---

Here's what you missed at Next '21
Google Cloud Next '21 is over, but the learning is just beginning. With three days of keynotes, deep dives, and announcements, there was a lot to take in! But don't worry if you missed something—the Google Cloud Blog team is here to round up our favorite announcements of Next '21.
Oct 18 | Google Cloud: Next
You can catch up on all the Next announcements in this comprehensive list, but we know that's a lot! Here are the standouts. Read more.
---

ICYMI - Top AI Announcements and Sessions from Google Cloud Next '21
Google Cloud Next is our chance to share what we've been working on with customers, partners, and the AI/ML community, and, I am excited to say that we didn't disappoint.
Oct 21 | Google Cloud: AI Machine Learning
At Next 2021, we continued to build successfully on our promise of making AI more accessible, more focused on business outcomes and fast-tracking the time-to-value for customers.
---

How Pokémon GO scales to millions of requests?
Have you caught Pokémons? Pokémon GO is a popular game played by millions, but it scales extremely well. This blog is a behind-the-scenes look into how the Pokémon GO engineering team manages and maintains the scale. Joining me is James Prompanya, Senior Engineering Manager at Niantic Labs who leads the server infrastructure team for Pokémon GO.
Sep 26 | Google Cloud: Developers
Let's see what he had to say when I asked him about the architecture that powers this extremely popular game. Checkout the video!
---

What's new with Google Cloud
Want to know the latest from Google Cloud? Find it here in one handy location. Check back regularly for our newest updates, announcements, resources, events, learning opportunities, and more.
Oct 27 | Google Cloud: Inside Google Cloud
Tip: Not sure where to find what you're looking for on the Google Cloud blog? Read More.
---
Source: https://cloud.google.com/blog/products/gcp