Google Cloud
Features Update Summary - June 2021
The summary of essential information about Google Cloud in June 2021.

Anthos, a modern application platform for enterprises
The previous blog of this two-part series provided readers with a conceptual overview of a modern application platform. In this second part, we will look at Google
Google Cloud: Anthos
Anthos, a Google Cloud's implementation of a modern application platform, eliminates inconsistencies across on-prem, multiple cloud, and hybrid infrastructures. With an open-source foundation based on the Kubernetes Resource Model and native integrations with the environments it runs in, Anthos makes it easier to build systems that are portable across infrastructures or specialized to a given cloud. Read More
---

How Mr. Cooper is using AI to increase speed and accuracy for mortgage processing
Mr. Cooper Group is an industry-leading mortgage services provider serving customers through servicing, origination, and digital real estate solutions. Using Google Cloud AI and ML solutions, they created a highly reliable, cloud-native document analysis and processing platform to process lending documents and unlocked new levels of accuracy and operational efficiency that help them to scale and control the cost at the same time.
Google Cloud:

AI & Machine Learning
Mr. Cooper is one of the largest home loan servicers in the country focused on delivering a variety of servicing and lending products, services, and technologies to homeowners. Read More on to hear how they did it.
---

AI Simplified: Managing ML data sets with Vertex AI
At Google I/O this year, we introduced Vertex AI to bring together all our ML offerings into a single environment that lets you build and manage the lifecycle of ML projects. In a previous post, we gave you an overview of Vertex AI, sharing how it supports your entire ML workflow—from data management all the way to predictions
Google Cloud: AI & Machine Learning
Many enterprises want to use data to make meaningful predictions that can bolster their business or help them venture into new markets. This often requires using custom machine learning models—something not every business knows how to create or use. Read More.
---


New research reveals what's needed for AI acceleration in manufacturing
While the promise of artificial intelligence transforming the manufacturing industry is not new, long-ongoing experimentation hasn't yet led to widespread business benefits. Manufacturers remain in "pilot purgatory," as Gartner reports that only 21% of companies in the industry have active AI initiatives in production.
Google Cloud: AI & Machine Learning
And 66% of manufacturers who use AI in their day-to-day operations report that their reliance on AI is increasing. Read More.
---

Why you need to explain machine learning models
Many companies today are actively using AI or have plans to incorporate it into their future strategies — 76% of enterprises are now prioritizing AI and ML over other initiatives in their IT budgets and the global AI industry is expected to reach over $260 billion by 2027. But as AI and advanced analytics become more pervasive, the need for more transparency around how AI technologies work will be paramount.
Google Cloud: AI & Machine Learning
This is especially problematic in deep learning and artificial neural network approaches, which contain many hidden layers of nodes that "learn" through pattern recognition. Read More.
---

Improving cloud operations and migrations with Google Cloud and ServiceNow
When organizations embrace cloud as a core component of their IT operations, they have a number of options: a wholesale migration to the public cloud, incremental or large-scale hybrid deployments, private clouds, or even running services across multiple clouds.
Google Cloud: Cloud Migration
According to Flexera's 2021 State of Cloud report, 92% of enterprises have a multi-cloud strategy. However, the majority are also faced with higher than planned cloud costs, and a need to optimize their existing cloud resources. These organizations have a few core needs in common, specifically, they must: Read More.
---

Announcing new features for Cloud Monitoring's Grafana plugin
The observability of metrics is a key factor for a successful operations team, allowing for increasingly effective visualizations, analysis, and troubleshooting. Google Cloud works with third-party partners, such as Grafana Labs, to make it easy for customers to create their desired observability stack leveraging a combination of different tools.
Google Cloud: Cloud Migration
More than two years ago, we collaborated with Grafana Labs to introduce the Cloud Monitoring plugin for Grafana. Since then, we've continued collaborating with Grafana to make lots of improvements to the experience. Read More.
---

New training helps you get started with GKE—for free!
Kubernetes adoption continues to grow unabated across all industries. This fall, 91% of IT and security professionals reported that their businesses are using Kubernetes for container orchestration. Now, technical professionals are faced with figuring out how to make the most of Kubernetes.
Google Cloud: Containers & Kubernetes
For many businesses, a cloud provider's managed Kubernetes service offers a more convenient on-ramp than going it alone with an open-source distribution. Read More.
---

SAP Accelerator for Order to Cash
Recently we announced SAP Integration with Cloud Data Fusion, Google Cloud's native data integration platform to seamlessly move data out of SAP Business Suite, SAP ERP, and S4/HANA. This simplifies integrating SAP data into BigQuery and gives organizations the opportunity to gain invaluable insights using Looker.
Google Cloud: Data Analytics
This not only involves building integrations but also creating dimensional models and analytics dashboards. In order to understand this, we need to take a closer look at the business processes in enterprises. Read More.
---

Google Dataflow is a Leader in The 2021 Forrester Wave™: Streaming Analytics
We are excited to announce that Google has been named a Leader in The Forrester Wave™: Streaming Analytics, Q2 2021 report. Thank you to our strong community of customers and partners for working with us to deliver a customer-focused product. We believe Forrester's recognition is an acknowledgment of our leadership across an integrated set of capabilities that rely on data to drive transformation.
Google Cloud: Data Analytics
Google Dataflow's sweet spot is for enterprises that have a preponderance of real-time data generated on Google Cloud Platform or wish to simplify all data processing by using a single platform that unifies both streaming and batch jobs." Read More.
---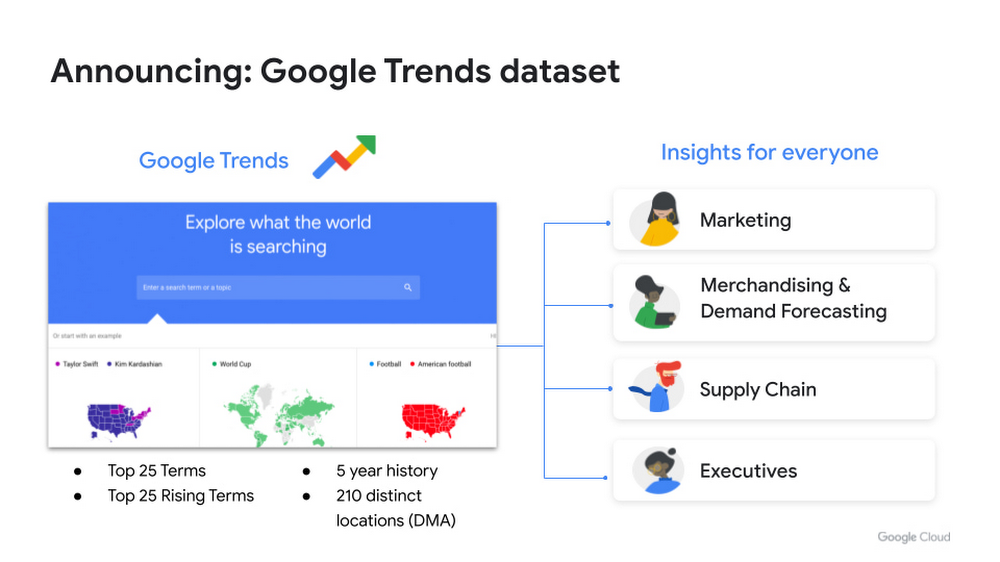 Top 25 Google Search terms, now in BigQuery
Today we're announcing preview availability of a new public dataset for Google Trends. For the first time we're bringing Google-owned Search data into Google Cloud Datasets for convenient analysis in BigQuery, or through your favorite business intelligence tools
Google Cloud: Data Analytics
For over a decade, Google Trends has provided a sample of Google Search data. Continuing to lead with a privacy-first mindset, the data is anonymized, indexed, normalized, and aggregated prior to publication. Read More.
---

BigQuery row-level security enables more granular access to data
Data security is an ongoing concern for anyone managing a data warehouse. Organizations need to control access to data, down to the granular level, for secure access to data both internally and externally. With the complexity of data platforms increasing day by day, it's become even more critical to identify and monitor access to sensitive data. In many cases, sensitive data is co-mingled with non-sensitive data, and access restrictions to sensitive data need to be enabled based on factors like data location or presence of financial information.
Google Cloud: Data Analytics
There may also be nuances where data is sensitive for some groups of users, while for others, it is not. Read More.
---

All about cables: A guide to posts on our infrastructure under the sea
From data centers and cloud regions to subsea cables, Google is committed to connecting the world. Our investments in infrastructure aim to further improve our network—one of the world's largest—which helps improve global connectivity, supporting users and Google Cloud customers.
Google Cloud: Infrastructure
Here's a list our most popular posts on our underwater infrastructure: Read More.
---

2 ways to migrate your SAP HANA database to Google Cloud
Many of the world's leading companies run on SAP—and deploying it on Google Cloud extends the benefits of SAP even further. Migrating your current SAP S/4HANA deployment to Google Cloud—whether it resides on your company's on-premises servers or another cloud service—provides your organization with a flexible virtualized architecture that lets you scale your environment to match your workloads, so you pay only for the compute and storage capacity you need at any given moment.
Google Cloud: SAP on Google Cloud
SAP server-side architecture consists of two layers: the SAP HANA database, and the Netweaver application layer. In this blog post, we'll look at the options and steps for moving the database layer to Google Cloud as a lift and shift or rehost, a straightforward approach that entails moving your current SAP environment unchanged onto Google Cloud. Read More.
---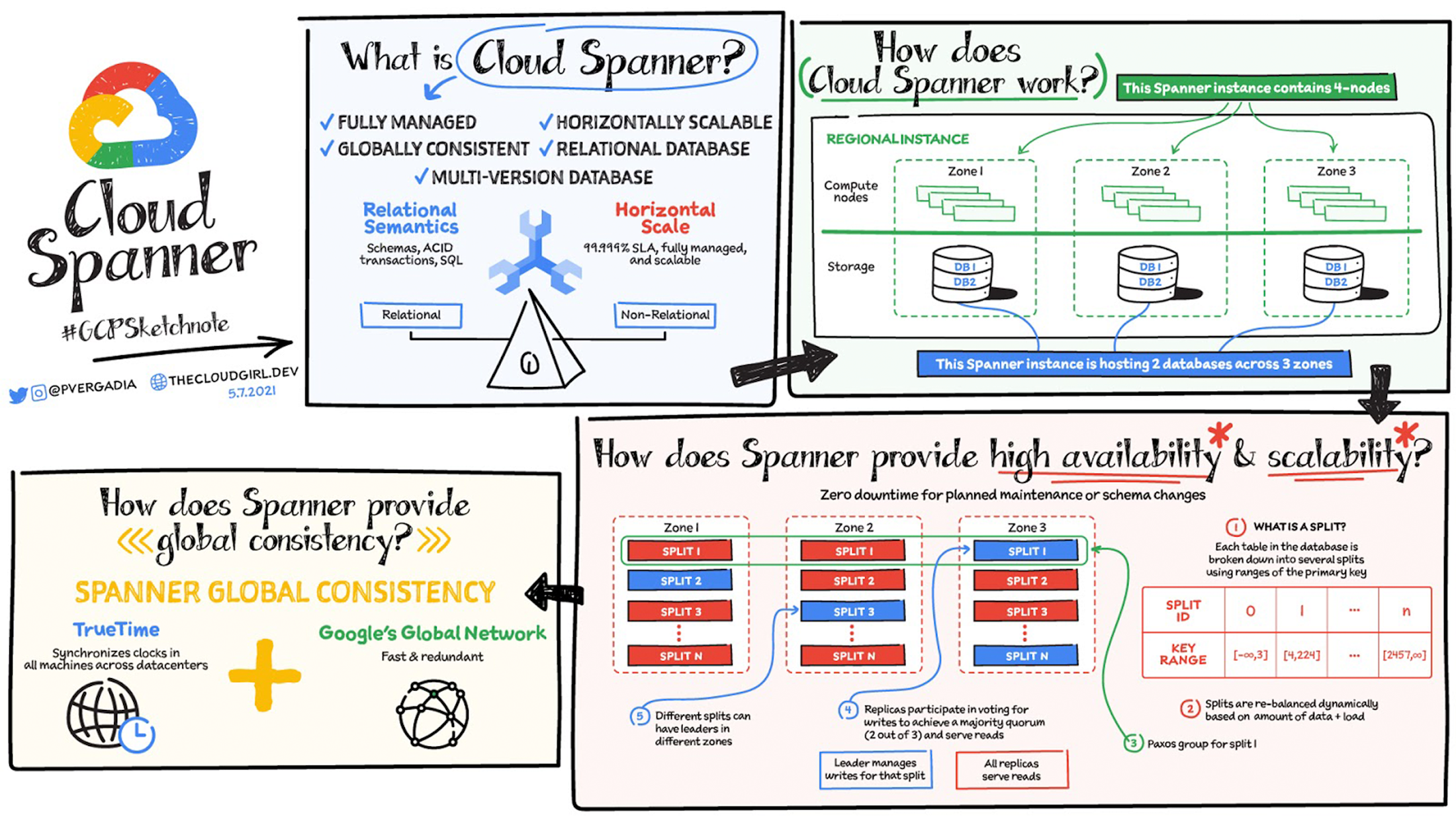 What is a Cloud Spanner?
Databases are part of virtually every application you run in your organization and great apps need great databases. This post is focused on one such great database—Cloud Spanner.
Google Cloud: Google Cloud Platform
Cloud Spanner is the only enterprise-grade, globally distributed, and strongly consistent database service built for the cloud, specifically to combine the benefits of relational database structure with non-relational horizontal scale. It is a unique database that combines transactions, SQL queries, and relational structure with the scalability that you typically associate with non-relational or NoSQL databases. Read More.
---

What's new with Google Cloud
Want to know the latest from Google Cloud? Find it here in one handy location. Check back regularly for our newest updates, announcements, resources, events, learning opportunities, and more.
Google Cloud: Google Cloud
Not sure where to find what you're looking for on the Google Cloud blog? Start here: Google Cloud blog 101: Full list of topics, links, and resources. Read More.
---
Source: https://cloud.google.com/blog/products/gcp