Featured launch:
Present like a pro with Google Slides
As a go-to presentation tool, Google Slides already comes equipped with real-time collaboration features. With this launch, Google introduced new robust features to help you and your team win that pitch, nail that client presentation and get buy-in for new ideas—all while saving valuable time.
Here's a look at the latest updates in Slides, including new G Suite integrations, partner applications and customization options.
Capture ideas in Keep, bring them to life in Slides
Google has built Keep to help you easily capture and organize ideas. Now, you can use a new drag-and-drop integration between Keep and Slides to transform these ideas into action. Simply select notes from Keep and drag them into Slides. When you add a note from Keep into your presentation, Slides will automatically add a title and description for you.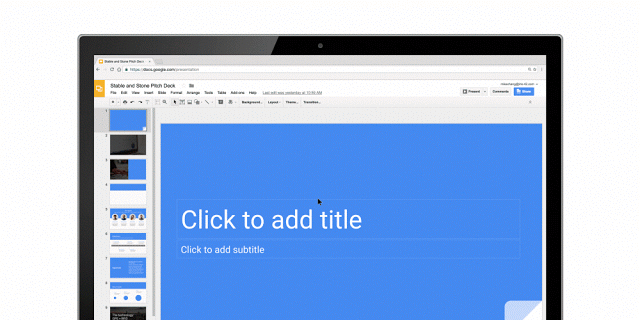 Skip manual updates, use linked Slides
Whether you're trying to prepare several client presentations or make sure data is up to date, repeatedly copying slides from one presentation to another is a major time-sink. Now, you can link and sync slides from multiple presentations with a click. This way, you can maintain a single source of truth and easily update linked slides to match the source, like for quarterly business reviews or company presentations.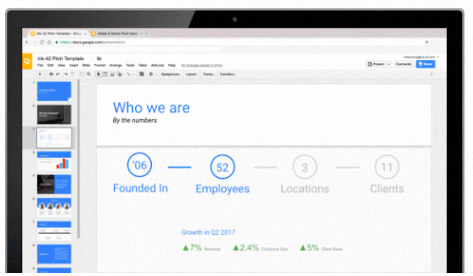 More updated
Insert Diagrams or ready-to-use visualizations. This is great for when you need to effectively share timelines, processes or hierarchies.
Select Grid view to view all your slides at once as thumbnails. This helps you easily reorder or change formats of multiple slides.
Tailor presentations to different audiences with the Skip slide feature. You can now choose to skip select slides without fully deleting then when you present from your phone or laptop.
Try new add-ons, shape up your Slides
Introducing seven integrations—designed to bring expertise from companies like Adobe and Shutterstock—right in Slides.
Use these new, rich integrations to help you build more powerful presentations, whether you want to add full-bleed images, use advanced image editing tools or include diagrams you created in programs outside of G Suite.
Search for and add images from Adobe Stock, right in Slides
You can use the Adobe Stock add-on to build visually-stunning presentations in Slides. Teams can seamlessly search, preview and purchase Adobe Stock images—without leaving Slides. Through the add-on, teams can also use Adobe Stock Visual Search to find relevant stock images with an uploaded image (versus a text search)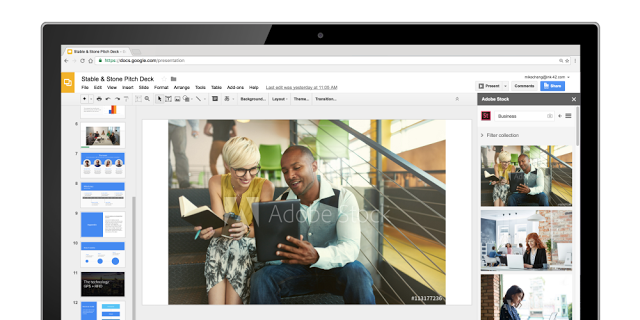 Use the Shutterstock Editor add-on to add and customize photos within Slides
With the Shutterstock add-on, teams can browse Shutterstock's entire library of royalty-free images, and sign into Shutterstock to license content, directly in Slides. Select an image, then apply customization options like filters, text, logos and more.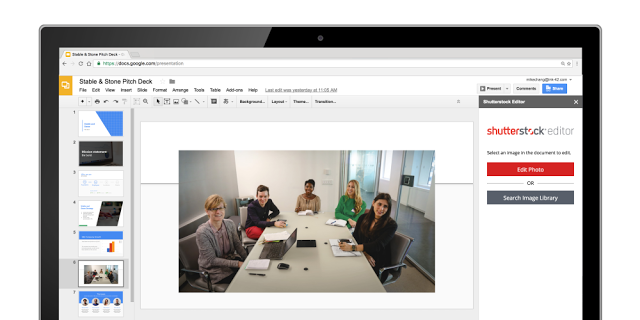 Teams can benefit from even more powerful capabilities in Slides with additional add-ons from Balsamiq, Lucidchart, Pear Deck, Noun Project and Unsplash. Tap "Add-ons" in the Slides menu bar to get started.
Work anywhere
Use Google Drive and the Files app to organize content on your iOS 11 device
With Google Drive, you can access and edit your files across the many devices and platforms you work on. The new Files app for iOS 11 brings together files and documents stored on your iOS device and in the cloud across various apps and services. With this launch, we fully integrated the Drive application with the Files app on devices running iOS 11.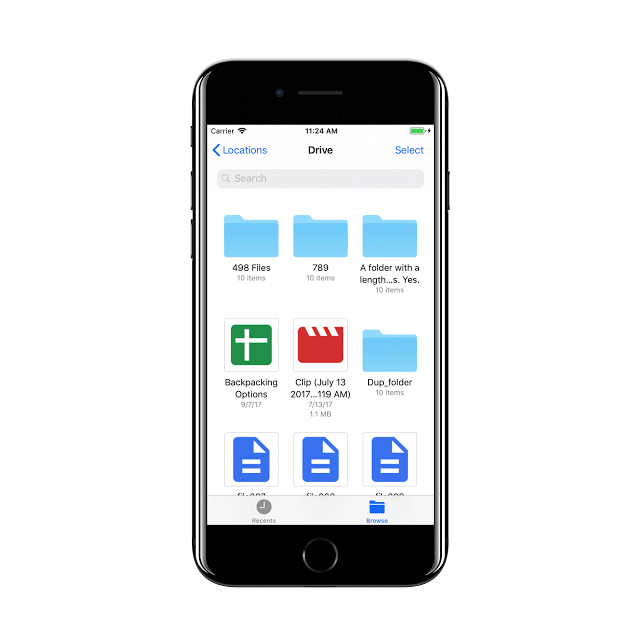 With the latest version of the Drive app installed, you can easily access and manage documents and photos stored in Drive just by opening up the Files app on your iOS device. If you have Google Docs, Sheets, or Slides apps installed as well, tapping on any Google document, spreadsheet, or presentation in the Files app will open the app of the associated Google editor. You can also take advantage of new iOS 11 features like dragging and dropping files between apps and folders in the Files App.
Simple to use
Embed websites as iframes in the new Google Sites
A lot of feedback from customers want better ways to add content to the new Google Sites. With this launch, you can embed an entire webpage as an iframe in a new Google site. This will allow you to pull in content from other websites and Google tools like Apps Script, Data Studio, and App Maker, saving you the trouble of duplicating and updating that information on your page. Simply select "Embed URL" from the Insert menu. Note that this will only work if the webpage you're trying to add allows embedding.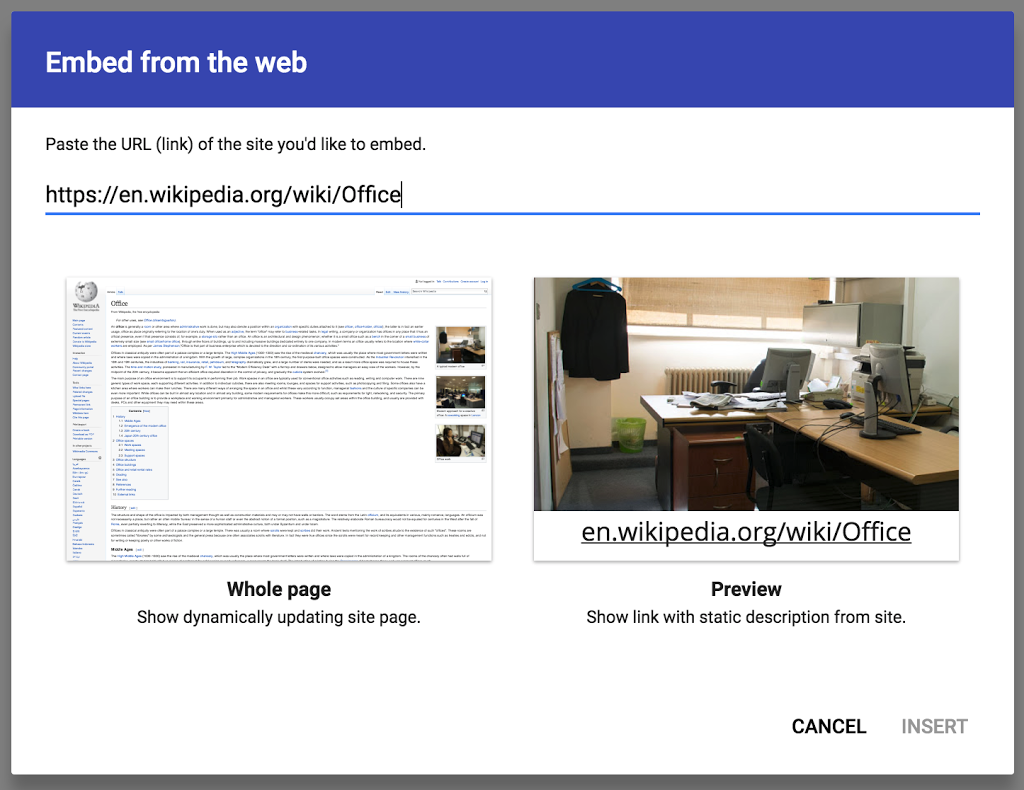 Addresses, phone numbers, and contacts converted to links in Gmail and Inbox
Gmail users often exchange information like addresses and phone numbers with each other to set up meetings, introduce colleagues, and plan events. Precious time can be lost by having to copy and paste this information from an email into other apps and websites, That's why with this launch, Gmail and Inbox by Gmail on Android, iOS, and the web will begin converting text to interactive hyperlinks whenever they detect phone numbers, addresses, and email addresses in emails.

How it works
Clicking an address link will take the user to Google Maps. Clicking an email address will compose a new email, using the user's default email client. Finally, when using a mobile device, clicking a phone number will start a call request using the default phone app.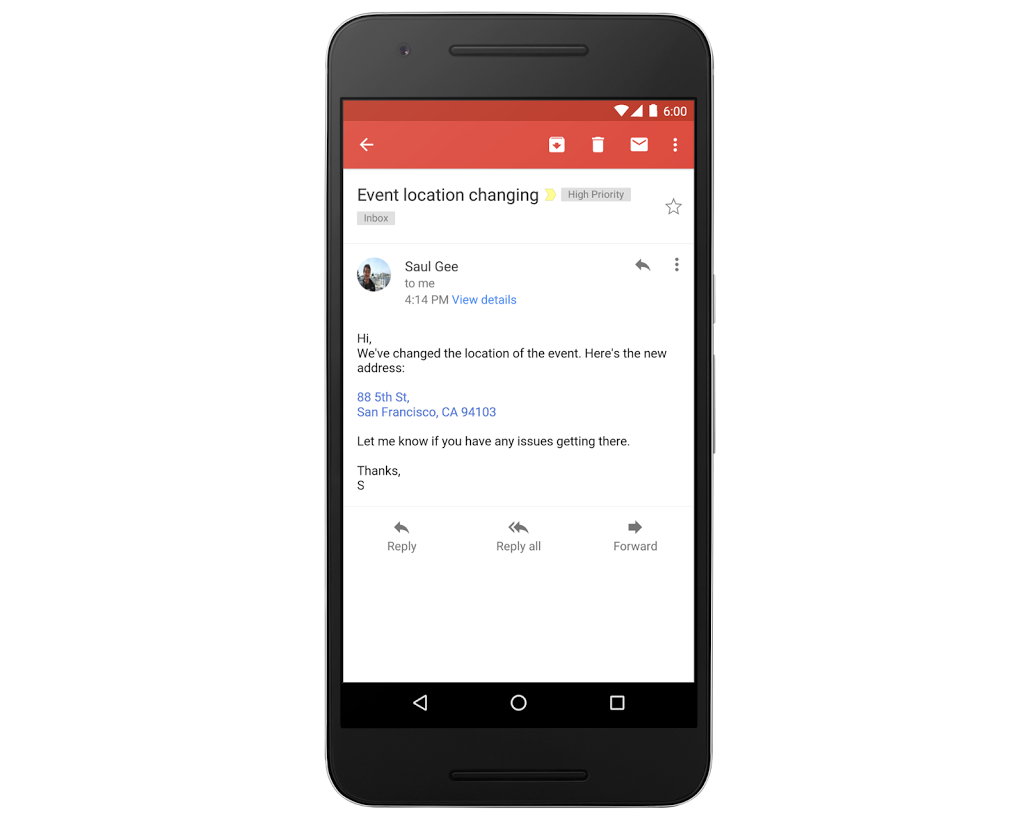 Business ready
Drive File Stream now available to all G Suite customers
Launched to early adopters in March, Drive File Stream is a new desktop application that allows you to quickly access all of your Google Drive files on demand, directly from your computer, meaning you use almost none of your hard drive space and spend less time waiting for files to sync.
On September 26th, Drive File Stream became generally available to all G Suite customers, following a three-week period that allowed admins to adjust their preferred Drive File Stream settings ahead of the launch.
For more information on how to turn Drive File Stream on or off in your domain, check out the Help Center.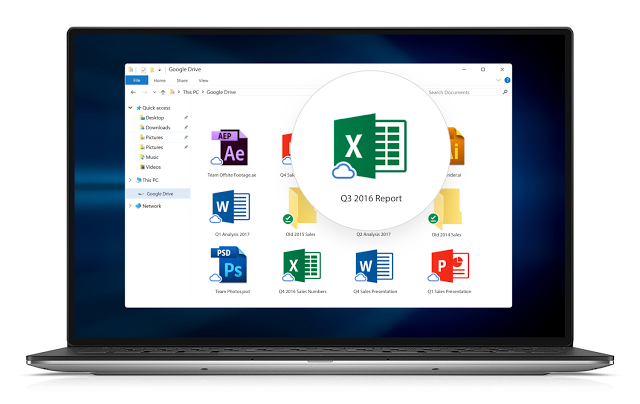 With this launch, Google Drive for Mac/PC (the old version of the Drive sync client) is officially deprecated. It will no longer be supported starting on December 11th, 2017, and it will shut down completely on March 12th, 2018. Google encourage G Suite customers to use Drive File Stream. As an alternative to or in addition to installing Drive File Stream, you can upgrade to the new version of Drive for Mac/PC, called Backup and Sync. Please note that this deprecation and shutdown has no impact on the Google Drive web and mobile applications.
Create custom headers and footers in Google Sheets
To create professional-looking spreadsheets, it's often critical that you can append them with certain information—for instance, your company's name, a confidentiality notice, and any other important details. With this launch, you can customize the headers and footers in your Google Sheets documents with the text of your choosing. In addition, you can select from many more pre-defined options (for date, time, etc.) and move those options around within your header and footer. Simply choose "EDIT CUSTOM FIELDS" from the Print settings menu to get started.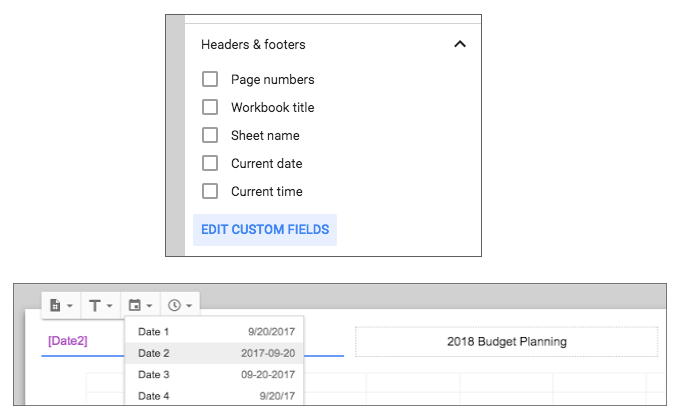 For more information: www.gopomelo.com

Telephone: 02-105-4107

Email: info@gopomelo.com