Featured Launch
Free Cloud Identity in G Suite
As an IT administrator, you want to be confident that your users are secure when accessing online services. Millions of G Suite customers already rely on Google Cloud's identity services to secure their online identities with tools like single sign-on, multi-factor authentication, and mobile device management. However, many G Suite organizations have users who do not require G Suite but still need a secure, online identity.
Google announced the availability of a new free Cloud Identity license for G Suite customers, which enables your non-G Suite users to get access to Google Cloud's identity services. Using Cloud Identity, you can easily create a unified sign-on for all your users across all enterprise cloud apps, set basic mobile device policies, and enforce multi-factor authentication with security keys.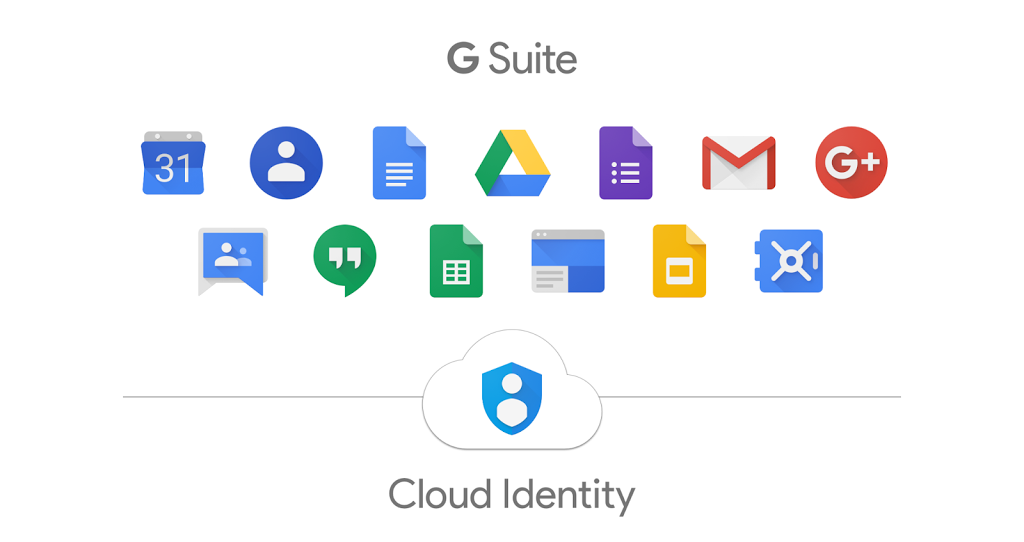 Once you enable Cloud Identity in your Google Admin console, you will be able to create Cloud Identity users in all the ways you create G Suite users; the only difference is that you will not assign these users a G Suite license.
Simple to use
Visualize data instantly with machine learning in Google Sheets
Sorting through rows and rows of data in a spreadsheet can be overwhelming. That's why with this launch, Google has added new features in Sheets that make it even easier for you to visualize and share your data, and find insights your teams can act on.
Ask and you shall receive → Sheets can build charts for you
Explore in Sheets, powered by machine intelligence, helps teams gain insights from data, instantly. Simply ask questions—in words, not formulas—to quickly analyze your data. For example, you can ask "what is the distribution of products sold?" or "what are average sales on Sundays?" and Explore will help you find the answers.
Now, we're using the same powerful technology in Explore to make visualizing data even more effortless. If you don't see the chart you need, just ask. Instead of manually building charts, ask to Explore to do it by typing in "histogram of 2017 customer ratings" or "bar chart for ice cream sales." Less time spent building charts means more time acting on new insights.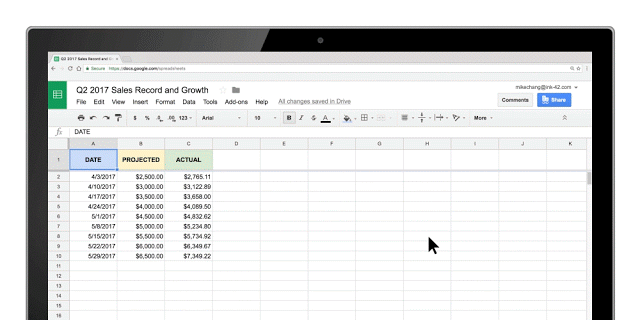 Instantly sync your data from Sheets → Docs or Slides
Whether you're preparing a client presentation or sharing sales forecasts, keeping data up-to-date can be time-consuming, especially if you need to update charts or tables in multiple sources.
Now, it is simple to keep tables updated. Just copy and paste data from Sheets to Docs or Slides and tap the "update" button to sync your data.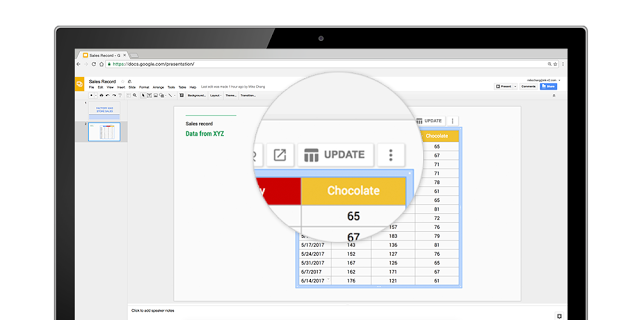 Business ready
More precise, reliable data and other new features in Google Vault
When you use Google Vault for your legal and compliance needs, it's important that you have the ability to retain exactly the data you wish and that the data you retrieve from the tool be accurate, precise, and comprehensive. With this launch, we're introducing four new features in Vault to help you address those needs.
Get more detailed metadata when exporting files from Google Drive
When you search for a particular user in Vault for Drive, the results may include files that the user accessed through an "indirect" relationship. This means that the file (or folder containing the file) was:
shared with a group that the user belongs to,
shared with the user's entire domain, or
shared publicly.
Previously, when you exported those search results, you wouldn't see that user listed in the file's export metadata, making it difficult to determine the document's chain of custody. Going forward, you will see that user listed, as Vault will now include information in export metadata about users who accessed a document via an indirect relationship. Additionally, you'll now have the option to see what that user's specific relationship was (e.g. whether the user was a collaborator or viewer).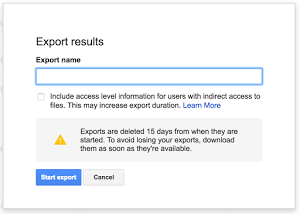 Set retention policies for all Team Drives
You can now create a custom retention policy that covers all Team Drives in your domain, in addition to the already existing options that cover specific Team Drives and organizational units (OUs).
Set retention policies for specific Google Groups
You can now create custom retention policies that cover specific Google Groups in your domain, in addition to the already existing option to cover all Groups in your domain.
Gmail admins can now notify internal senders when their email is quarantined
Through Gmail compliance and routeing settings, Gmail administrators can now choose to notify internal senders when their messages get quarantined, depending on your compliance rule. Below is an example of the email that users will receive when their emails get quarantined:
For more information: www.gopomelo.com

Telephone: 02-105-4107

Email: info@gopomelo.com