Work together
Send and receive chat messages in Hangouts Meet
Sharing written communication is a critical part of successful meetings. Meeting participants may want to share links or contribute to the conversation without interrupting the speaker. With this launch meeting, attendees will be able to send text and links, all in real time. The chat history will be available for the duration of the meeting.
This feature is available across Meet platforms: chat messages can be sent and received on web and mobile (versions 4.5 and above), and received on Chromebox for Meetings. All users can send and receive messages while in Meet, including those not signed in with Google accounts.
An improved third-party sharing experience in Google Drive
We know that many of your organizations work with contractors, vendors, and other third parties who don't have Google accounts, and we recognize that it's crucial you're empowered to share information with them in a quick, easy, and secure way. Today Google has made changes to the experience users have when sharing Google files with non-Google accounts.
New sharing experience
To make this process easier and more effective for both G Suite and non-Google users alike, Google added an option to the sharing dialogue for users to let anyone with the link view the file.
If an employee selects this option to "Send the link," link sharing is turned on for that file and anyone with the link will be able to view the file. This allows third parties to access important content with no deadline and no need to create a Google account.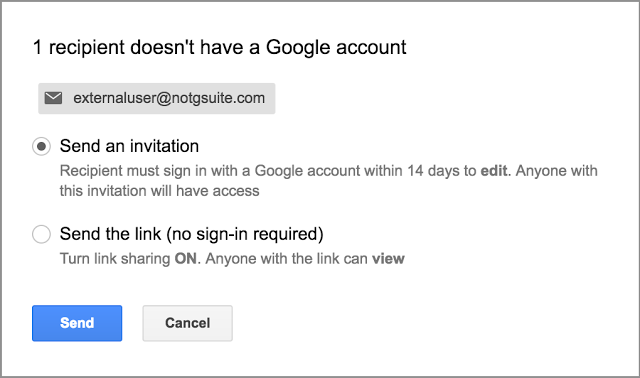 Simple to use
Smarter Google Forms to save you time
Google Forms makes it easy to collect information, plan events, solicit feedback, and more. With this launch, Google adds new features and use machine learning to make Forms work better for your business. Read on for more details.
Intelligent response validation
When you know the specific type of answer you're looking for, it's often helpful to validate responses in Forms. For example, if you're asking for a website, Forms can double-check that the answer provided is a URL. Following this launch, Forms will suggest response validation based on the question you ask. If you ask respondents for their age, for instance, Forms may recommend validating that the answer they provide is a whole number.
Cross-domain file uploads
Oftentimes, when you use Forms, you're not collecting data from your colleagues—you're gathering information from third parties, customers, and more. To guarantee you get the information you need, Forms will now allow users outside of your domain to upload files as responses to your questions—provided both of your organizations allow cross-domain sharing in Google Drive.
Preferences
If you use similar settings across all of your forms, you can now save time by assigning default settings to apply to any new forms you create. For instance, you can choose to always collect email addresses, make questions required every time, and assign default quiz point values.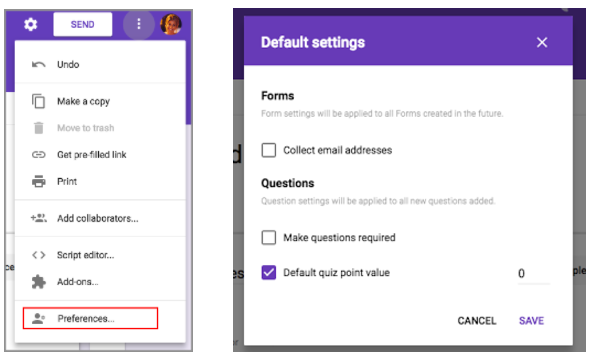 "Checkbox grid" questions
Sometimes a question is more complex than multiple choice or checkbox answers alone can satisfy—you need to be able to select multiple options from multiple categories. Going forward, you can use the "Checkbox grid" question type to get the answers you need, like dates and times that work for an upcoming meeting.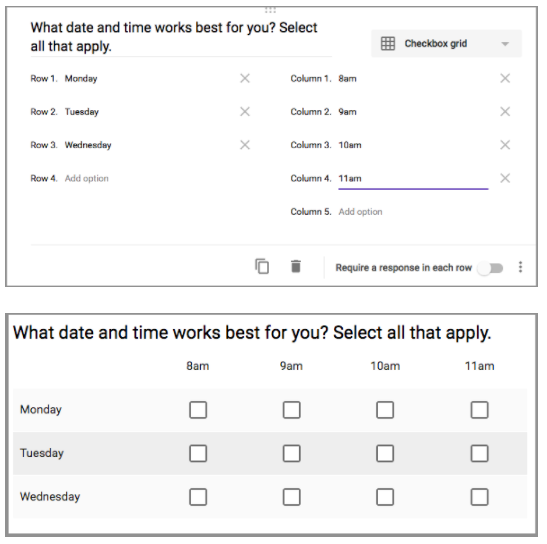 Section reordering
We heard you loud and clear—you need an easy way to organize (and reorganize) your questions in Forms. In response to your feedback, we're now making it possible to reorder whole sections quickly and easily.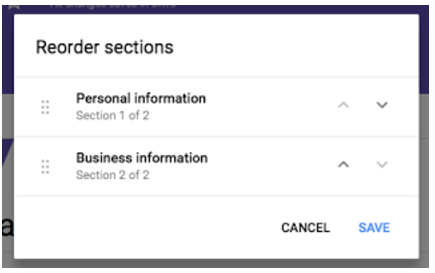 Find exactly what you want in Google+ with new search options and filters
In July Google+ rolled out a few updates to help your users find the content they're looking for. From an updated look of the search interface to search suggestions and domain-only filters, these new experiences can make users confident that the content they see is the content they want. Read on for more information.
Suggested and recent searches before users start typing
Before a user begins typing in the search box, Google+ will show them Communities they may be looking for, as well as recent terms they've searched.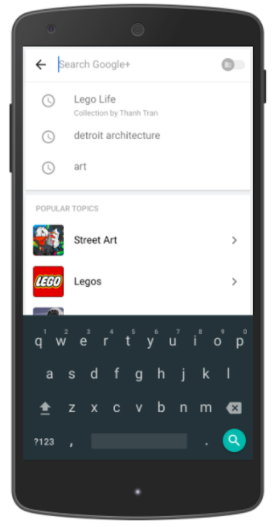 Improved Autocomplete
As the user types, autocomplete results will be shown from Topics, Collections, Communities, and People/Pages.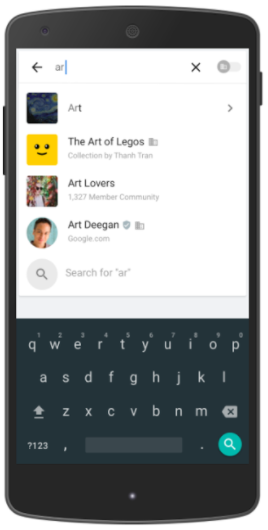 Filter results by content type using the new tabbed interface
On the search results page, users can now filter content by five categories: "All," "Posts," "Communities," "Collections," and "People & Pages."

Restrict search results and home stream to show only content from within your domain
While offering a mix of external and domain-restricted content can be a valuable aspect of Google+, showing content from people outside of your domain (especially those sourced from users' personal contacts) can lead to user confusion. That's why Google+ introducing the ability to toggle between showing domain-only content vs. public content in search suggestions, search results, and the Google+ home stream. This feature is currently available on the web only.
With this toggle, users can enjoy the benefits of mixed content while also being able to focus on company-specific info when appropriate. Filtering out external content can increase users' confidence that they won't accidentally leak information by commenting on externally visible posts.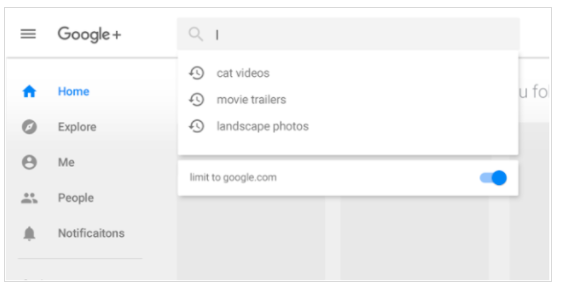 Business ready
Better experience for SMS 2-Step Verification users with Google prompt
2-Step Verification (2-SV) giving users a better option to keep their accounts safe. In addition to offering 2-SV over an encrypted connection, Google prompt also allows users to block unauthorized access to their account with real-time security information about the login attempt.
With this launch, 2-SV SMS users will see an invitation to try Google prompts when they sign in. The invitation will give users a way to preview the new Google prompts to sign in flow instead of SMS, and, afterwards, choose whether to keep it enabled or opt-out.
Overall, this is being done because SMS text message verifications and one-time codes are more susceptible to phishing attempts by attackers. By relying on account authentication instead of SMS, administrators can be sure that their mobile policies will be enforced on the device and authentication is happening through an encrypted connection.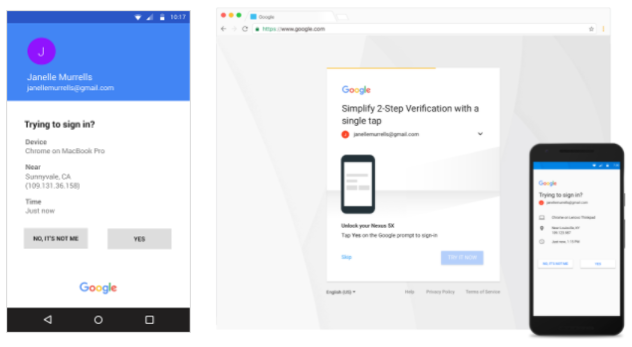 Manage legal matters and holds programmatically with the Google Vault API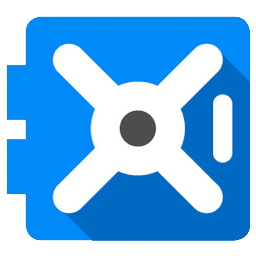 Google Vault can help your organization meet its legal needs by offering an easy way to preserve and retrieve user data. To harness the full potential of Vault, however, you may need to integrate its functionality with other tools and processes that your business employs. With this launch, Google making that possible with the Google Vault API.
The Vault API will allow you to programmatically manage legal matters and holds. This means that you will be able to create, list, update, and delete matters and holds related to data supported by Vault.
For more information: www.gopomelo.com
Telephone: 02-105-4107

Email: info@gopomelo.com