Featured launch
Email Log Search improvements
Search for emails by subject line
While the message ID is a great way to find the exact message for troubleshooting, it's not always convenient for users to provide this information. Now, email administrators can search by email subject and save time troubleshooting with their users.
Email policies are linked in the email log
Now, you will be able to know which of your email policies triggered which action and make modifications to your policies by clicking on a link to the relevant policy.
The email log shows delivery status for emails in your domain. For emails that didn't reach their destination or triggered an email routing rule, the status will explain why. For example, emails may have been quarantined as spam, or bounced because they couldn't be delivered.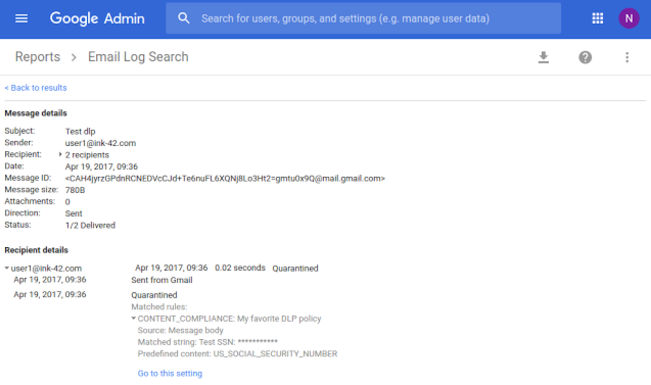 Work anywhere
Google Cloud Search iOS app now available
In the past February, Google introduced Google Cloud Search, a new product that uses machine intelligence to provide a unified search experience across G Suite. Already available on the web and via the Android app, Cloud Search is now accessible on your iOS device as well. With this launch, you can download the Cloud Search iOS app from the App Store and search across your G Suite applications right from your iPhone or iPad.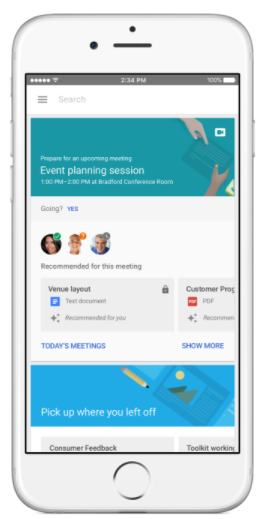 Simple to use
Discover more of the things you're into with Topics on Google+
Millions of people use Google+ to connect around the things they're interested in. To help you sort through the many Collections and Communities where people share, Google has created a new feature called Topics. With Topics, you'll see a high-quality stream of Collections, Communities and people related to things we think you'll be interested in.
To see the recommended Topics, head to your home stream and look for the "Topics to explore" cards.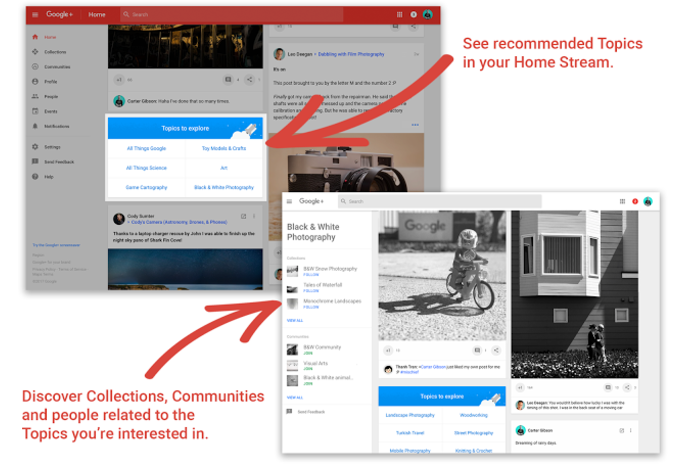 Business ready
Customize your site with logos, matching colors, and more in the new Sites
Since launching in November 2016, Google has continued to add features and functionality to the new Google Sites, including support for Team Drives, section dividers, subpage creation, and more. With this launch, Google has made it possible to add a logo to your site and to use the colors from that logo to customize your site further. Simply add the logo of your choice, and Google Sites will intelligently detect its colors and offer them for use in your theme. This new feature will help you create professional, business-ready sites for your organization.

Track Google+ adoption levels at your organization with new usage metrics in the Admin console and the Reporting API
One of the most compelling reasons to adopt Google+ is its power to connect and engage your workforce. Having a more engaged workforce increases retention and innovation within an organization and leads to more productivity. Since announcing that Google+ is now a core G Suite service last September, Google has heard that you'd like better reporting on Google+ adoption and engagement throughout your organization. In response, Google has taken the first step by adding new enterprise-focused Google+ usage reporting in the Admin console and the Reporting APIs. With this change, you'll now be able to look up:
Daily active Google+ users
Weekly active Google+ users
Monthly active Google+ users
Number of new users
Number of new posts
Number of new comments
Number of new +1s
Number of posts viewed
Number of posts reshared