Bringing you the key highlights from the most recent updates that are enhancing G Suite as well as tips to improve your efficiency.

January
Launching Security Center
Organisations data security is not easy to manage. The recent introduction of Security Center for G Suite makes it a lot easier. Giving you a tool that brings security analytics, actionable insights and best practices from Google specialists to admins by creating a birds-eye view off all data. Read more about the security center in the recent blog: Introducing the security center for G Suite by Chad Tyler (Product Manager, G Suite) and Reena Nadkarni ( Group Product Manager, G Suite)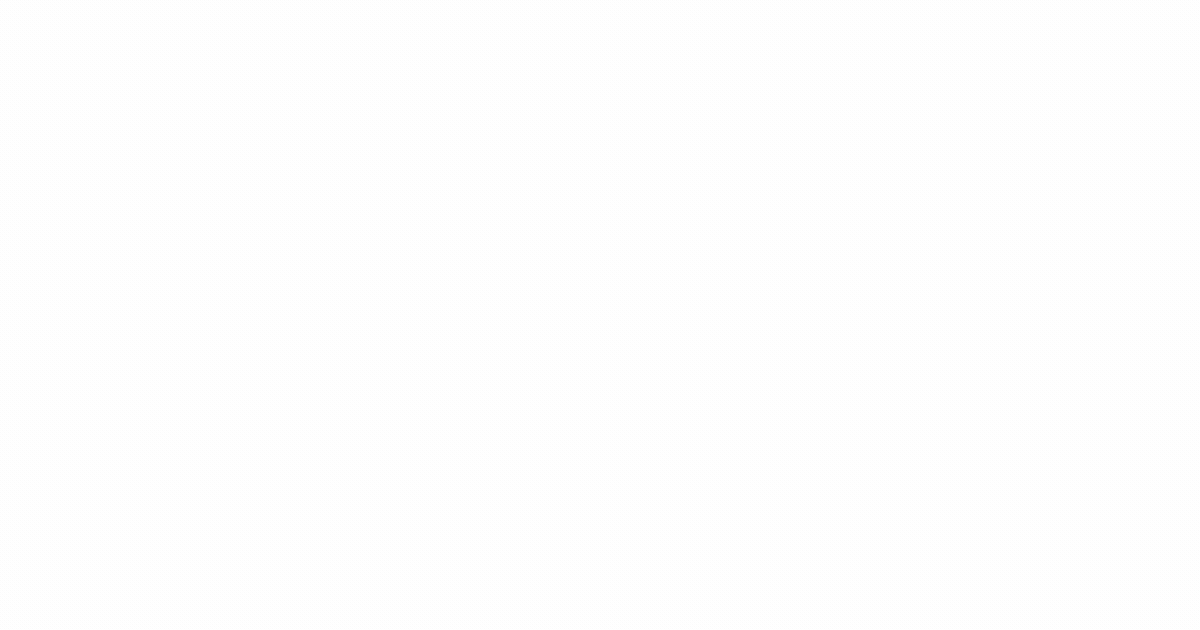 Security center explained in 3 steps
1. See a snapshot of important security metrics in one place
Know the suspicious activity in your company. Next to this you can get a clear view how
Spam and malware are targeting users within you organisation and metrics to demonstrate security effectiveness—all in a unified dashboard.

2. Stay ahead of potential threats
Admins can inspect security analytics to flag threats. For instance, an alert can be send to your users is someone in your environment is subject of fraudulent acts such as phishing so you can react before it becomes a threat.

3) Reduce risk by adopting security health recommendations
Security health analyses your current environment and provides you customised advise to ensure your users and data. These recommendations range from how data is stored, to how your files are shared, and lastly recommendations on you communication and mobility settings.
Work together
Improved accessibility for Google Sheets, Slides, and Drawings

To make sure Google's products work well for everyone. That's why, as part of their ongoing accessibility initiatives, they've launched new features for Google Sheets, Slides, and Drawings. Specifically, Braille support in Google Sheets, and screen magnifier support in Google Slides and Drawings.

Use Google Sheets with Braille displays
You can already use Braille displays to read and edit text in Docs, Slides and Drawings. Now Braille support to Sheets has been added as well.

Use screen magnifiers with Google Slides and Drawings
The recently added screen magnifier support to Docs and Sheets has been expanded to work with Slides and Drawings as well.
Search easily within Folders on Google Drive
Find documents more easily within drives just simple by pressing "right click" on the folder within drive. Narrow your search down on Type, date modified, name, etc. For quick tips & tricks on google drive for you computer, android device or IOs device read them here.
Install Gmail Add-ons for your entire domain
Google recently launched Gmail Add-ons, which allow you to work with your favorite business apps—directly from Gmail. To make it super easy for users to access these helpful tools, they've now made it possible for G Suite admins to install Gmail Add-ons for their entire domains. To install an Add-on, click the Settings gear icon in Gmail and select "Get add-ons."

In addition, is made it easier for developers to design Gmail Add-ons specifically for their organisations.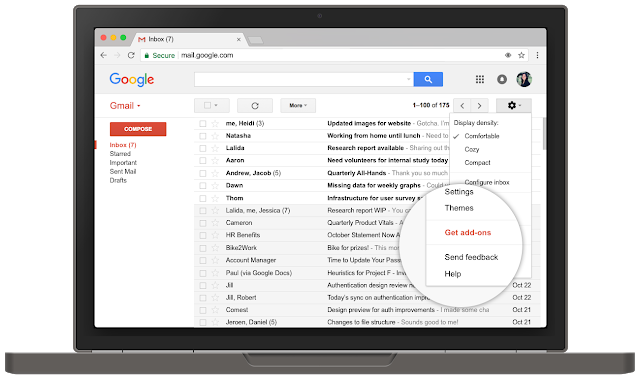 Developers in your domain will notice two changes:
They'll be able to install Gmail Add-ons for their own G Suite accounts before they're published, to aid in the development process. Previously, this was limited to their personal Gmail accounts.
They'll be able to publish Gmail Add-ons to users in their own G Suite domains. In addition, they'll be able to publish to the general public, after requesting and receiving publication permission.


What's New for G Suite Admins Videos
February
An invitation you'll want to accept: updates to G Suite meeting room hardware
By working closely with customers and industry experts to shape the role of technology in meetings, and making it easy for teams to work together face-to-face, anytime, anywhere. A big part of getting this right is working closely with IT, AV and facilities leaders to understand how Google can solve some of their challenges which is why Google went to the Integrated Systems Europe (ISE) conference in Amsterdam to learn from AV and systems integration experts about how they can help them make meetings easier.

At the ISE convention Google announced 3 updates to make meeting solutions even better for enterprises, namely:

Expanding Jamboard and Hangouts Meet hardware to new countries
Adding AI-powered autodraw to improve your jams
Offering more Hangouts Meet hardware options for larger rooms

Jamboard updates: EU expansion and adding AI-powered AutoDraw
Jamboard is already available for businesses in North America and the UK to collaborate, now it's become available in 8 other EU countries as well. Please note that the Jamboard isn't yet available in Thailand, Malaysia, Singapore and Vietnam, we will share this as soon as it becomes available.

Together with expanding Jamboard to new markets, also an AI-powered feature called AutoDraw has been added. This new drawing tool in Jamboard auto-detects sketches you make and pairs them with images. This gives teams the ability to make their ideas even more visual.
New ways to comment and share Microsoft Files (and more ) in Google Drive
If your team members work with different files and tools, now Google Drives makes it easier. With storing and sharing the file in the cloud, you can now comment directly in your drive on Microsoft Files, including PDF and images. Saving you time and making it easier to collaborate without you having to convert the file into docs, sheets and slides.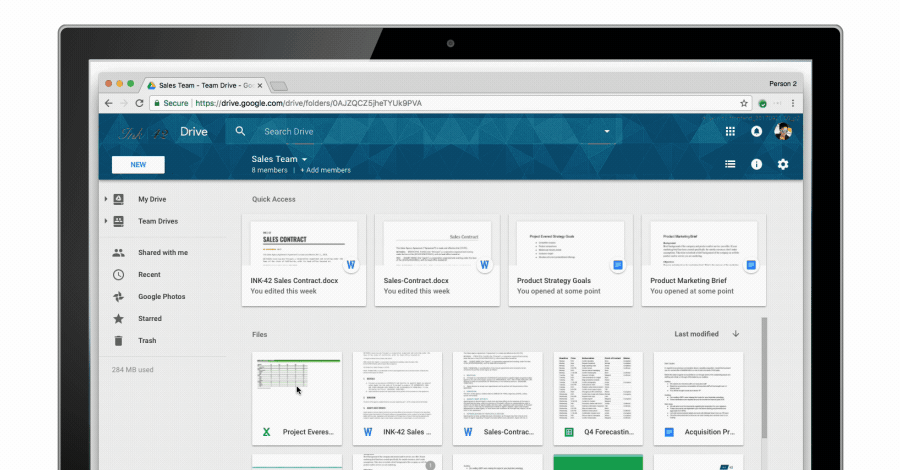 This new addition to Google Drive is especially useful when you have work related with external agencies and third parties. Where team members tend to work with different files and tools. Google Drive makes it easier for the team to share their files and also store it in the cloud. To make it more easier, now you can comment directly on Microsoft files including PDF and images saving time and making it easier without any need to convert the files into docs, sheets and slides. It's simple just as the way commenting on the Google docs.

Bringing the power of AMP to Gmail
For the last couple of years Google has been working on making websites faster to load on mobile devices through an open source framework called, Accelerated Mobile Pages (AMP). Now it's one of the best ways to build rich web pages. This led to the opportunity to apply this framework on our Gmail platform. This new spec will give developers the opportunity to create effective, engaging, interactive and actionable email experiences.
A few companies like Pinterest and Booking.com have already adopted AMP for email to create a better customer experience.

New ways to help teams work faster and smarter with G Suite
In this dynamic and fast paced business environment we are today, teams have to work more closely together where in the previous time a business could rely on one team. Decisions have to be made fast, teams need to align quickly and wasting time on repetitive, manual tasks has to be reduced. More and more companies that rely on legacy work systems see that they're falling behind.

G Suite makes this possible. It transforms the way teams collaborate, with intelligent tools that help them solve problems faster and focus their time on work that matters.
And together with the recently announced new, intelligent updates to G Suite which gives businesses even more ways to manage projects. Below an overview of Google's shared new ways.
Use a new, centralised platform to stay aligned on projects and make decisions quicker
Hangouts Chat is now available, which makes it easier to collaborate and maker decisions faster. With these team chat rooms and threaded conversations, powerful search functionality and intelligent bots that connect workflows and speed up tasks (even with 3rd party apps), you can work on projects from one central point. See it as opening a new store location or launching an advertising campaign. Chat has deep integrations with other G Suite apps like Google Drive, Calendar and Hangouts Meet, and built-in security to meet retention, eDiscovery and regulatory/compliance needs for enterprises. Read more about Hangouts Chat or learn how you can build your own bots.
Spend less time setting up meetings and more time accomplishing goals.
Making it simpler to manage meeting, by building tools like looking up conference room information and assist with scheduling a meeting time. In the upcoming months artificial intelligence will be applied to Calendar to automatically suggest meeting rooms for you and because they'll be optimised for each attendee based on their building and floor location, previous booking history, audio/video equipment needs and room capacity requirements, you can feel confident that you're booking the right space for your team to be productive.
Solve problems face-to-face with teammates over video, right away
Quickly jump in a face-to-face call straight from your Google hangouts and Chat. Sometimes it's best to jump into an online meeting face-to-face with colleagues so you don't hold up progress. Now, your team can quickly transition from a conversation in Chat and join a Hangouts Meet video conferencing meeting with just a few clicks.
Spend less time searching for the right documents and more time crafting ideas
Quick Access that you know already in Drive has been added to Docs. Allowing teams to focus on their work. With AI technology it can suggest relevant files based on signals like Drive activity and information in your documents, so you can work with the most up-to-date information and create new material quickly.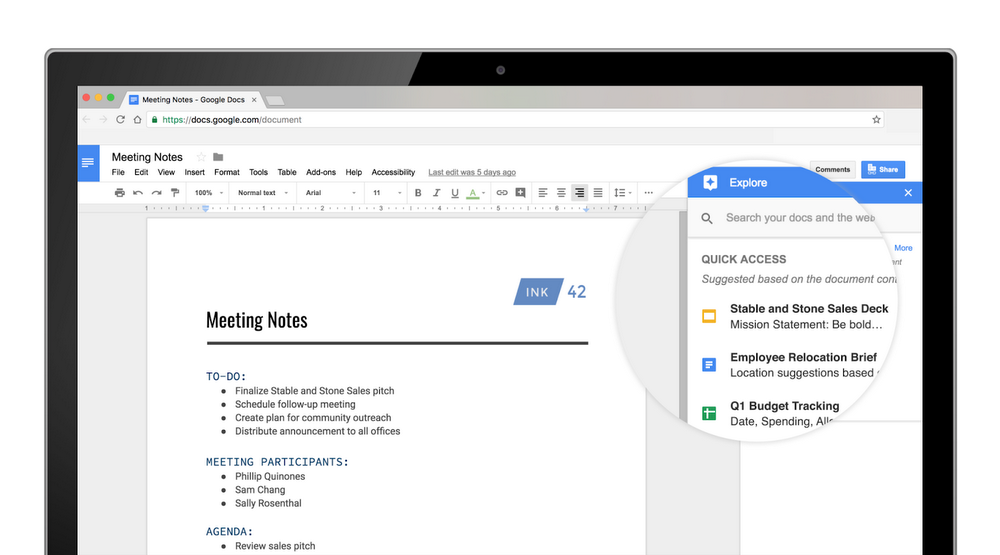 Follow our Blog for the latest updates and new information about G Suite and other business improving solutions.