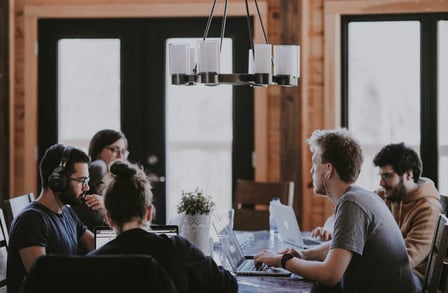 New technology, new systems, constant updates and improvements to our day to day lives but how are we using these tools to our advantage in the office? When you think that in 2020 at least 50% will be millennial workers of the total workforce in companies, this means 50% of people who grew up with the latest technologies. That's why we believe that you should put emphasis on designing your future workplace as well.

Adapting a new culture
A new culture, sounds like you have to fundamentally have to change the way you operate, but is this actually the case? Just think about how you are currently communicating with your family, friends, colleagues or others we use many social platforms, messaging apps, video calling and other advanced tools. Why is it then that in the office we stick to legacy and closed tools to communicate our messages, like pushing company announcements through mail. This way of communicating creates a closed environment where employees tend to feel disengaged because they can't share their opinion. That's why one of the principles we believe in is be open by default, one of the 6 principles of the Future of Work.
By using workplace you give employees a platform they
know how to use and a place to respond, react and
engage with management posts.

So actually adapting a new culture is just bringing the day to day tasks to the office.
Connect from anywhere on any device
The second principle we tend to forget in the workplace is being mobile. Mobility is one of the key factors in the changing environment. Off course we're using mobile more and more but for meetings, people that are working remotely and sales teams that are constantly on the move it's sometimes hard to connect.
With tools like work chat and chatbots available you
will also enable the mobile workers and
equip them to engage more.

Staying connected is also one of the key factors on the road to employee engagement.
Reducing emails in your organisation
CC'ing, BCC'ing and short replies resulting in endless email threads can clutter inboxes. A study by the Carleton University showed that people spend on average 17 hours a week on work email, this one third of their total job time. So it's crucial to reduce this time and create a quick way to communicate and collaborate.

With the use of Workplace Chat you to start a conversation instantly with anyone in your organisation, whether it's a call, video call (Workplace can host video calls with up to 50 colleagues) or simply a quick message.
Make decisions collectively
Making decisions collectively engages teams and groups within your organisation. By creating groups on Workplace you can engage with the right people. A place where you do your updates about a specific project, event or simply company decisions with the right people. In the group you can post the latest updates, make a poll before a meetings to make the meeting more effective, or simply a way to give everybody a voice. In general employees are far more likely to vote on a poll than complete a survey distributed by email. This way, employees know they are participating to company decisions and managers can better facilitate their staff.
Alignment between divisions or departments
In a recent blog by Gend on How to Align Sales and Marketing Using Workplace it shows that workplace can be a key differentiator on aligning departments. Generally Marketing and Sales have a kind of different view of the company and there is a healthy rivalry on how to move forward. Using Workplace the step to a truly aligned or even integrated commercial team has been set. A tool that helps makes space for teams to share ideas, brainstorm and achieve more together.
6 Principles Identified by Workplace
Already the first 2 of the 6 principles were discussed, Open by Default and Mobile. The 3rd principle is Multimodal, using Workplace tools like Group Video, Chat or Live broadcasts to create more meaningful and immersive communications. 4th is integrated, a smooth work together with tools like G Suite, Dropbox, Quip, Office 365 and others is key in collaborating. Tools which are easily integrated are generally used more. The 5th principle is one that is really upcoming and related to the mobility principle, Connected. Staying connected and engaged with the company or even between companies. Workplace allows mobile workers, multiple location companies or even intercompany to stay connected and up to date with the latest developments. Finally the last principle, Personal. Content that is relevant to the individual user, tailored to fit their likes, interests and function. With AI-technology Workplace shows the relevant and accurate content at the right time.
If you're not yet working with Workplace but are interested in exploring the possibilities it can bring to your company and make it future proof, schedule a demo with us and we'll show you how it changed our way of working.
See How Workplace Helps Build a Connecting Culture!