Key Takeaways of 'Future of Work' at Meta Connect 2022

---
Meta shared their new innovations and added more partnerships for advancing the future of work at Meta Connect 2022!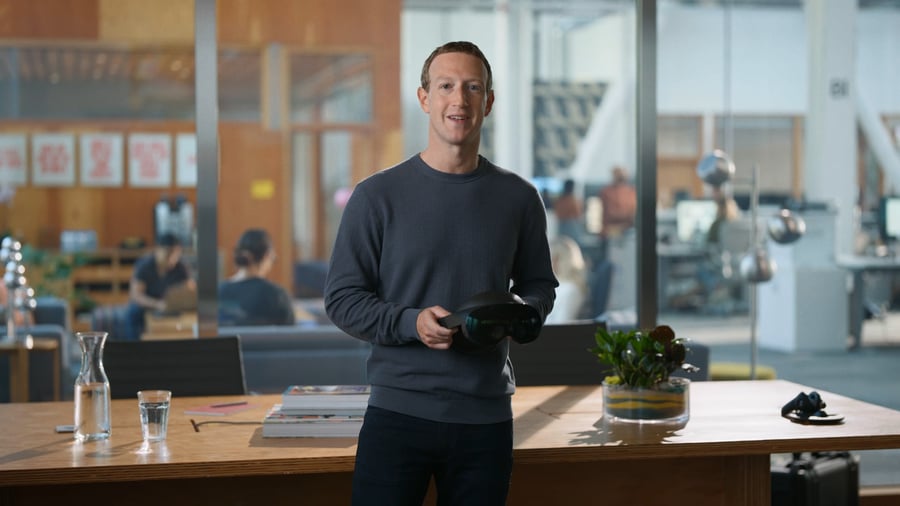 Introducing Meta Quest Pro for Work
At Connect 2022, Meta announced their new advanced VR headset called Meta Quest Pro, the first high-end device which was designed specifically for collaboration and productivity purposes. The cutting-edge technology from Meta Quest Pro will enhance the way you work, with the following features:
Innovative pancake optics: Clearer vision when reading texts in VR and less distraction to stay focused and get things done smoothly.
Full-color mixed reality: Working seamlessly with virtual monitors above your actual desk which can be placed wherever you'd love to.
Eye tracking and Natural Facial Expressions: More natural avatars in VR which allows better communication and a greater sense of presence.
A sleek and open design: For easier note-taking and greater awareness of your surroundings. This can create a more immersive working experience and help you to stay focused when working.
All new controllers: Meta added the stylus for natural writing and sketching in Workrooms. The controllers are completely self-tracked for a 360-degree range of motion, designed to be more balanced and ergonomic with precision gestures which will enhance the collaboration experience in VR.

Meta Horizon Workrooms: Your New Virtual Office

Meta announced the beta version of Meta Horizon Workrooms last year. They're now adding new features for the workplace to be more productive, collaborative, and creative with Quest Pro.
More expressive avatars: Utilizing inward-facing sensors in Quest Pro to power eye tracking and Natural Facial Expressions features to generate more authentic, lifelike avatars in real-time.
Breakout groups: Ability to shift from big groups to small discussions with fewer distractions.
Sticky notes for whiteboard: Ability to add sticky notes to the virtual whiteboard for brainstorming and collaborating.
Multiple screens in a new personal office: Adding three massive virtual screens on your desks to enhance the working experience in the solo Workroom.
Zoom integration: Ability to join Workrooms via Zoom in 2023
3D models: Ability to view 3D models in Workrooms next year. This will be beneficial, especially for designers, architects, and creatives.
Magic Room: Magic Room will make collaboration easier and create more productivity for any team, including hybrid teams.


Powering Productivity with Microsoft

Meta CEO Mark Zuckerberg and Microsoft Chairman and CEO Satya Nadella shared their plans to accelerate the future of work. They're planning to put together the virtual and physical world such as creating an immersive meeting experience with Microsoft Teams in Meta Quest Pro, Stream the Microsoft Windows 365 experience on Meta Quest devices, Integration between Microsoft Teams and Workrooms, and many more.


More Partnerships for the Best Working Experience
Meta is currently working with Autodesk to update their collaborative design review app to take advantage of the new possibilities unlocked by Meta Quest Pro. Adobe is also working on enabling PDF document viewing, editing, and collaboration – major advances for productivity in VR.
Making the Devices Enterprise-Ready
Meta announced Meta Quest for Business which will be ready in 2023 to scale up more VR experience at work.
Changing the Way We Work Together
Meta is leading the way they bring together the virtual and physical spaces and believe that it will completely change the way we work together.
---
Learn more about Workplace from Meta ➜ https://www.gopomelo.com/buy/workplacefrommeta