Google Introducing New Innovations in Google Cloud Next '22!

---
Here are Top 10 Announcements from Google Cloud Next '22!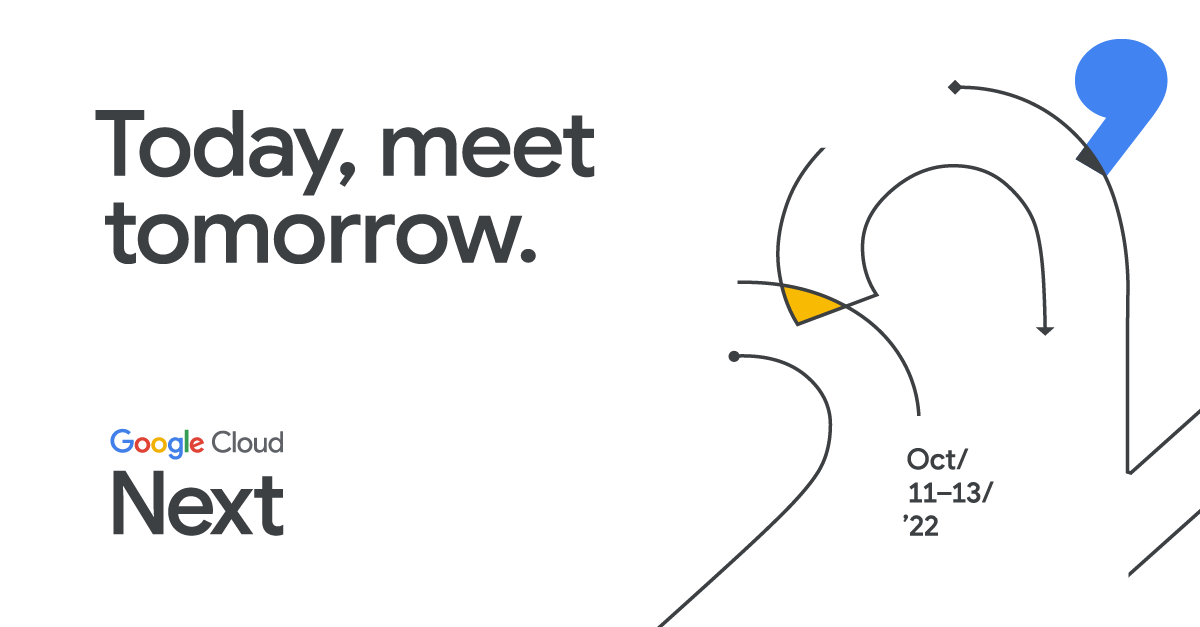 Google Cloud hosted its annual event 'Google Cloud Next '22' as a hybrid event with 24 hours of live-streamed broadcast on 11 - 13 October 2022.
"This year's event takes place at an inflection point in the cloud industry," said Thomas Kurian, CEO of Google Cloud. "Data and artificial intelligence (AI) are transforming everything around us, and open, connected ecosystems are essential to everything we do. This week, we are proud to announce cloud innovations that help businesses embrace openness and interoperability, in addition to celebrating the incredible achievements of our customers and partners."
During Next '22, Google announces hundreds of new innovations for organizations of all sizes, across all industries to ensure that they can apply new technologies to adapt to the change in customer expectations.
Top 10 Google Cloud announcements in Next '22:
Customer momentum across every geography and industry

New innovations and partnerships to define the future of cloud

Hundreds of new innovations and partnerships are added across Google Cloud's portfolio including a data cloud so organizations can better understand their data and automate core processes.


An open data cloud

Google Cloud announced about providing the most open, extensible, and powerful data cloud in the industry, along with new applications and services to put powerful, applied Google AI technology in the hands of more data specialists.




Easy, transformative, open infrastructure

To better help organizations run on Google Cloud or in their data centers, the company is announcing the infrastructure and migration updates.



Extending the Power of Google Workspace

New innovations in Google Workspace and more 3rd parties are added to support organizations transform the way they work to be better than ever before.



Create more immersive connections on Google Meet

More features are added to Google Meet to create immersive meeting experiences and make video calls feel more engaging just like a physical meeting.



Translation Hub, Document AI, and Contact Center AI

AI has become more significant in every business and industry. Google is adding more AI improvements to make sure that customers can apply AI to solve their business challenges.


Translation Hub: Google added 24 new languages to Google Translate to help reduce communication barriers for customers in more locations.
Document AI: To simplify and automate various document processing.
Contact Center AI: Improve customer experience and create more value with an additional deployment choice and flexibility.



Advanced security tools to protect what's important

Google Cloud is extending its cybersecurity leadership and expertise to help customers stay protected at every stage of the security lifecycle.



Delivering next-generation computing to enterprises

The combination of Google's technical strengths enables Google Cloud to put the tools of tomorrow in the hands of organizations today.



Powerful new ways for organizations to develop sustainably
GoPomelo has been partnering with Google Cloud for more than 10 years. We strongly believe that with Google Cloud technology, organizations across the globe can transform, solve challenges and always be ready for tomorrow!
---
Sources: https://cloud.google.com/blog/topics/google-cloud-next/whats-next-for-digital-transformation-in-the-cloud