"With Cloud Search, we're bringing the best of Google Search to your business and delivering true enterprise search"

The Digital Challenge of Supporting Field Service Teams
Operations are increasingly based on information and the speed at which it can become available to your teams. The time it takes to get that information is typically what costs the most to industrial or engineering service teams.
Another important part of Field Service teams is safety. Having access to up to date information and training resources in the field goes hand in hand with maintaining a safe working environment.
Traditionally it is difficult and costly to give a field service person quick access to information that is relevant to their role at that given time.
In enterprise operations you are usually tied to ERP and database systems like Oracle, SAP and Sharepoint. While these solutions provide solid enterprise grade platforms and data, they are typically difficult to get access to while in the field. With data and resources scattered across multiple systems, simply performing a search for information is time consuming and often fruitless.
Exploring Solutions
What if there was a way to bring a google.com search experience to your enterprise information from anywhere, anytime?
GoPomelo have worked with process engineering and field services industries to implement Google Cloud Search platform on top of their existing platforms to bring that 'Google' search experience to the enterprise. We can seamlessly connect this search platform to your existing Windows files servers, Sharepoint, SAP, Oracle data and many other platforms. This gives your field service teams the ability to quickly access information from one centralized google search application.
Once connected the possibilities are endless. We are taking the user experience that we all take for granted in our personal consumer lives and bringing it to your enterprise data. Field service teams can use voice search or even snap a photo of equipment part numbers to get back information on that specific piece of equipment.
Changing the Game with Cloud Search



Operations on Steroids



With information literally at your fingertips, the speed at which Field Service teams can carry out tasks and get empowered significantly changes your organisation's operations.
Optimize inventory, materials, production and work in process


Our customers are seeing tremendous benefits with Google Cloud Search for Field Service teams. Organisations are able to provide faster and more refined access to information like process control plans, quality control plans, capacity plans and vendor performance as well as optimizing inventory flow. It is easier for machinists/assemblers to search work orders, specifications, CAD drawings (in which it can be hard to find detailed parts), industry standards and CNC codes, to ensure they are following proper procedures.
Minimize Risk and ensure compliance


Image search allows maintenance teams to quickly update the status of equipment in the field. They can easily update maintenance records, replacement part inventory, procurement and project management information from mobile.
React to and resolve service issues more efficiently


This solution reduces the number of service calls and increases operational efficiency by resolving issues quickly. Customers and stakeholders receive on-demand support from remote technicians/experts to reduce downtime. Operations are able to remove the zero-sum mindset of field teams and open up new ways of collaborating and sharing best practices.
Continuing the Innovation
The GoPomelo team continues to work on liberating data for our Field Service customers. As google.com search becomes more sophisticated in voice and image search so will our Enterprise solution. Google Cloud Search Platform also opens up opportunities for automation and workflows with chatbots serving the front end user experience.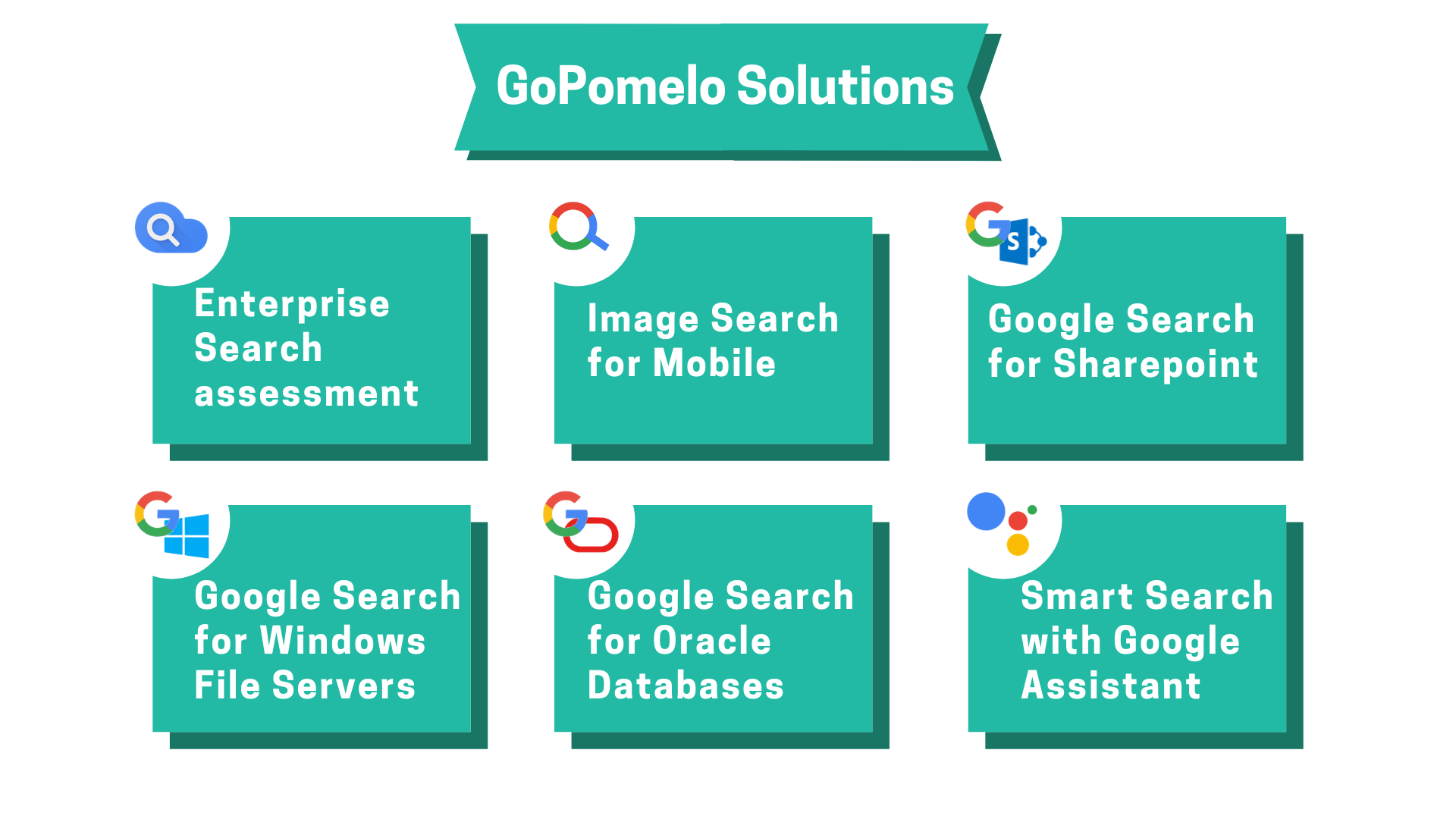 ---
Talk to us today to see how we can explore bringing these solutions to your organization.